Rodger K. Snyder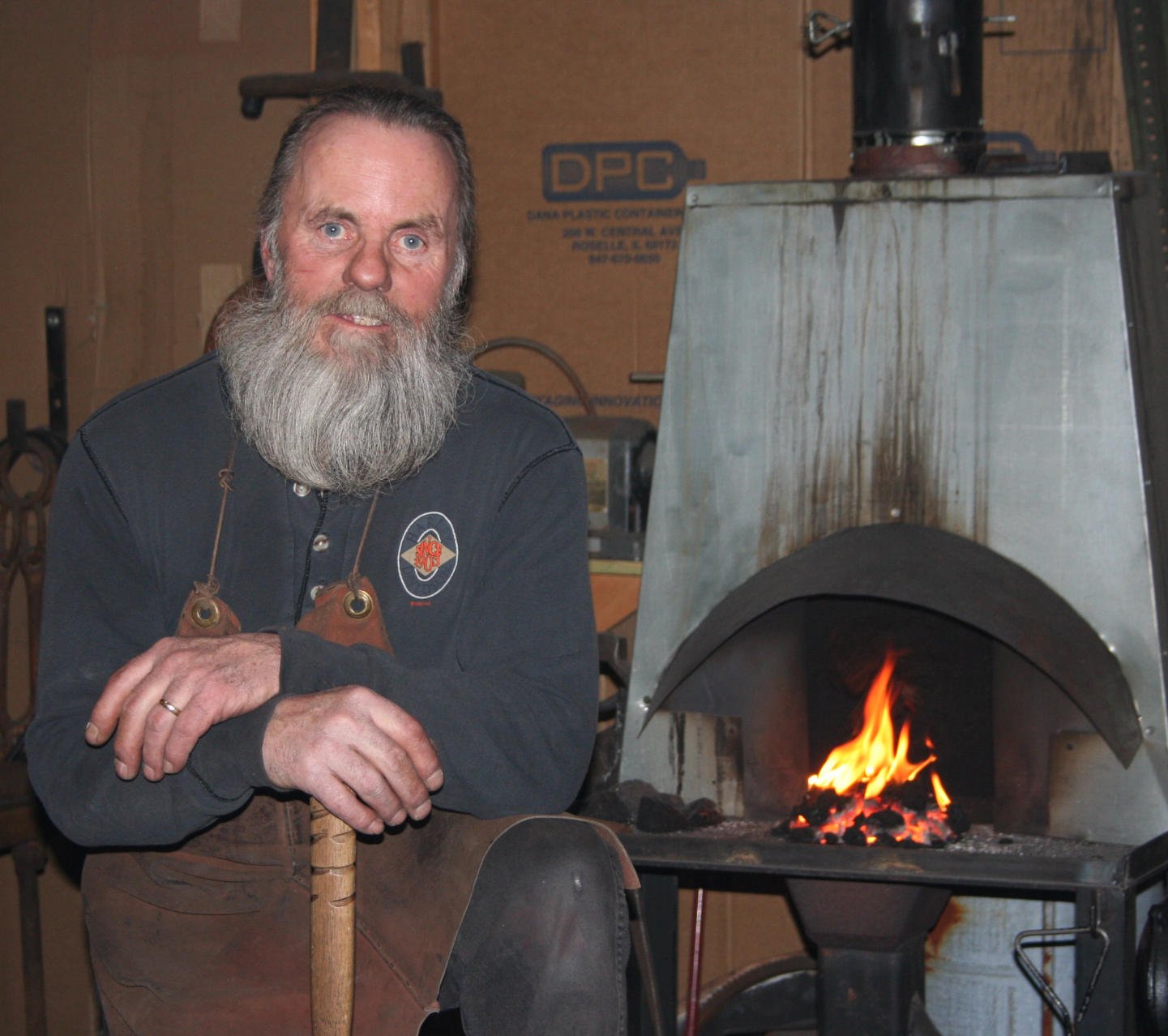 I have been in the blacksmith field for nearly 50 years! My education started with hands-on learning of the basics of blacksmithing from a 3rd generation German immigrant that was a well-versed blacksmith. I have since expanded my education through my experiences in practical application, also in-depth study in a large array of printed materials and exchanging knowledge and experiences in many forums and gatherings of the seasoned blacksmiths around. My trade education continues daily as I use traditional tools and methods in my field.
My experience in the fabrication and maintenance welding field spans 40+ years. I am proficient in most all welding processes such as stick, mig, tig, oxy-acetylene, soldering and brazing.
Black Oak Forge, LLC is a traditional blacksmith shop using coal forge methods.
We opened our present shop in 2012, just north of Juneau, WI. West of where Hwy.33 and Hwy. 26 meet. Family owned and operated. We work with homeowners as well as commercial businesses.
We are committed to the preservation and development of traditional arts and crafts.
Our dedicated passion is to the creation of both traditional and fanciful metal work that you may be envisioning and ending with a piece of art work that you will be proud to show off! When it comes to first-class blacksmith work, Black Oak Forge has it covered.
We create exceptional original designs or recrafted pieces to the highest quality standards in both design and material as well as providing excellent services.
We provide our products and services with an emphasis on quality, exceptional craftsmanship and satisfying customer care. The methods we use show the rich surface textures that are the hallmark of hand work. You'll feel right at home when visiting our beautiful, up north, cabin-like showroom! We have many of our unique iron work pieces on display and for sale.
We're hoping you bring your imagination along with you so we can help bring to life that one-of-a-kind item you have always wanted, along with any pictures, photos, designs and ideas!!
The photos here on our website are just a sampling of what we can create for you to enjoy!
From the initial consultation to the final inspection of all of our projects, we incorporate planning, and projecting ideas and experiences through visual content to create new products or improve the current ones. We take a concerned look at all aspects of the project being crafted to your specific requirements so that it will fully compliment the particular place for which it was intended. Our goal in repair servicing, is to NOT let the damages become a HAZARD for you.
We look forward to working with you!! See you soon!!
Landscape Furnishings

Metal Fabrication

Commission Work

Decorative Iron Work

Iron Gates & Fencing

25lb Bags of Coal

Corporate Iron Furniture

Repair Welding

Design Work

Restorations

Project Research & Development

Variety of Structural Steel in Stock
Please take a look at the Products and Services tabs for additional information!!